We all know that music can make us feel good, tap our toes, clap our hands, or even make us sad. But did you know that music has the power to activate and change your brain?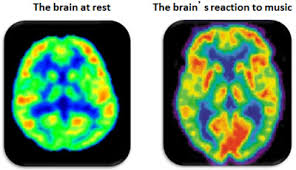 Listening to music, even right after stroke during rehabilitation, can help. Listening to music can improve a stroke patient's ability to stay focused on one thing (attention). Listening to music for just 1 hour a day can improve memory among people who have had strokes. Listening to music can sometimes help you "get up and get going", so that you become more active when there is music. Listening to music also makes you feel better emotionally. People who have had strokes, who listen to music, are less likely to be depressed. (Read a source here.)
Listening to singing, in particular, may activate the parts of the brain that are needed for producing words. There is a network in the brain called "mirror neurons". These neurons become active when we see or hear someone else do something that we do. Just listening to singing makes the "singing" parts of our brains active. (Read a source here.)
You don't have to just listen to music, though. You can actively participate in music by singing, humming, playing a kazoo, or tapping a drum. In our music therapy sessions at Voices of Hope for Aphasia, our members participate in music in many different ways. Here's how a person with aphasia can be helped through music therapy:
improved breathing and voicing
improved intonation
improved articulation (ability to pronounce words)
better overall communication abilities (Read a source here.)
That's why we are so happy to be able to offer music therapy as part of our programs. Our next round of music therapy will begin February 14 for 6 weeks through March 28, 2018 – Wednesdays 1- 2 pm at the Sunshine Center in St Petersburg.
Now, listen to our special Voices of Hope for Aphasia song – thanks to James of Music Therapy St Pete.
.