"Aphasia - Now What?"
A 2-Day Family Education Workshop
Do you want to know more about aphasia?
Doctors, nurses, and Speech-Language Pathologists often can't spend the time they would like to educate you on your new diagnosis.  With restrictions on visiting hours, education is even more limited.  This workshop is aimed to help fill in the gap and answer your questions – whether you received a diagnosis of aphasia a month ago or 10 years ago!
This 2-day workshop is offered ONLINE and IN PERSON.
ONLINE
The interactive, 2-day workshop provides education, support, and strategies for the entire family unit.  Over the course of 4-hours, spouses, parents, children, and loved ones get a chance to learn about aphasia, feel what it might be like to have aphasia, and ask questions about their experiences and challenges with aphasia.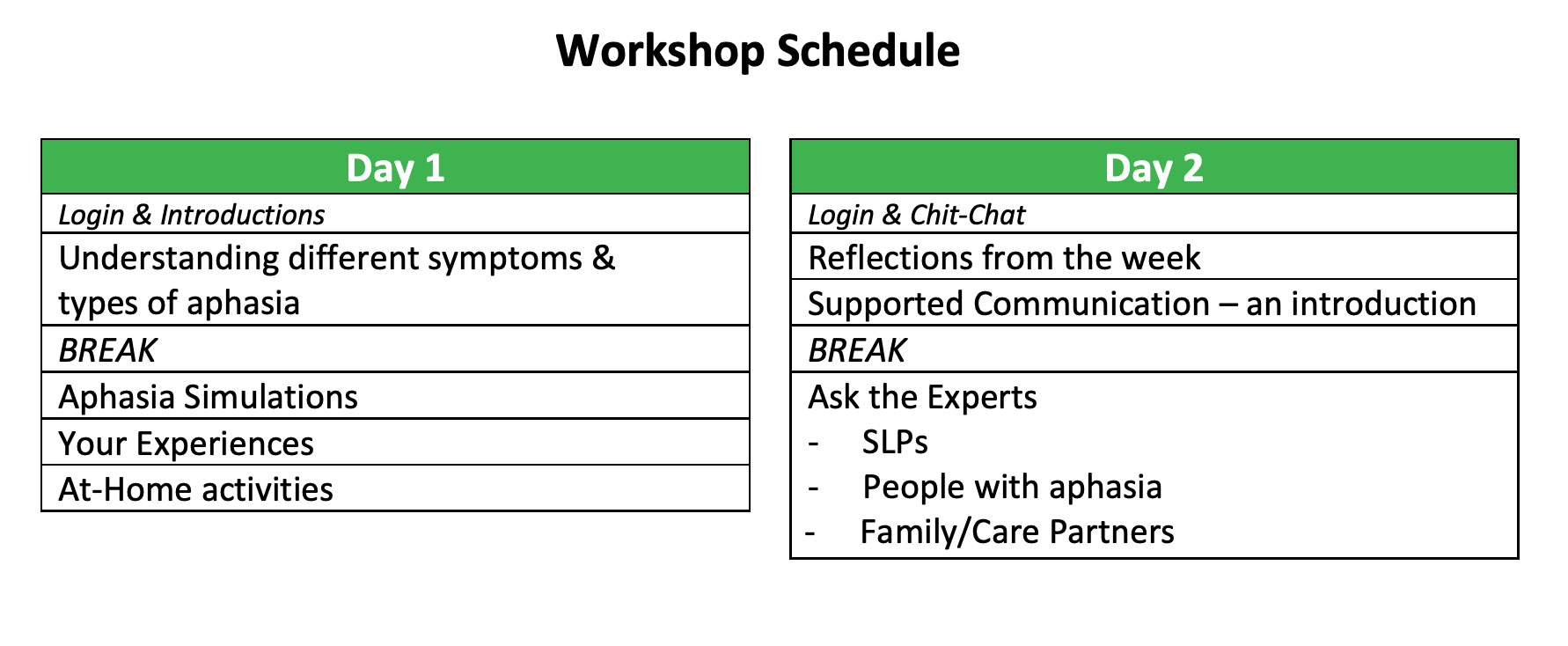 We limit the number of families per session so we can spend the time to answer your questions and give you an opportunity to share and learn from others, so SIGN UP NOW! You must commit to attending both days of the workshop – two dates are now available, more will be announced soon.
The workshop is conducted on two days. This allows you to process the information and collect questions and thoughts for the second day. We want you to have lots of questions!
Each day is two hours long with a 10-minute break in the middle. Pick from weekday mornings, weekday evenings, or weekends! To register, click on your preferred date:
Sessions fill up quickly, so register now!
Click on a date for registration information
IN PERSON WORKSHOP OFFERED TO PATIENTS OF REHAB CENTERS AND HOSPITALS:
This interactive, 8-hour event will help you:
Understand aphasia and its impact on family communication
Learn supported communication techniques that will help you and your family communicate more effectively
Find resources that you need to make your life with aphasia easier and happier
Leave with a personalized set of tools and strategies to use at home. Complete manual, ready to share with others, is yours to take home.
The IN-PERSON workshop will return soon. Register for our weekly newsletter to find out about upcoming workshops.
Here's what people say about this workshop:
"Thank you for a wonderful 2-day session. I learned so much and I feel more confident in helping my husband have a quality of life."
"We want to thank you for your wonderful presentation on aphasia. It enlightened and reassured us on many different levels. We are grateful and reward you for your knowledge and constant compassion."
"As full-time caregiver to my stroke survivor husband, I attend all his therapy sessions, attempting to gain information and tools to support his recovery. The "I Have Aphasia… Now What?" workshop was incredibly valuable…The experiential activities we participated in allowed my empathy to expand exponentially, increasing my patience immeasurably toward my husband's inability to get even the simplest of words out…I highly recommend this invaluable, compassionate program to those living with someone going through the trials of aphasia."
"This workshop was great and very helpful. I will be using a lot.
"Everything was very helpful and you two were great."
"We loved all of it!"
"Great experience! I cannot wait to tell others in the group!"
"Thank you so much for sharing your knowledge."
Thank you to our workshop sponsors: