Personal Stories
Visit our YouTube Channel to see all of our videos including our Aphasia Awareness month shorts!
The Voices of Aphasia – The Voices of Hope
Our members talk about the value of Voices of Hope for Aphasia
fantastic…you, this, me…is fantastic

good and helpful to talk to talk to other people with aphasia

I never found a group where everyone participated – they're friends…they're fantastic.

I feel like we are all family.

Determination!

Members of Voices of Hope for Aphasia, January 2021
---
An interview with Amy and Dave who participate in our online sessions.
[These] two months of virtual meetings and programming, is extraordinary. It's head and shoulders above; for its user-friendliness, probably for its therapeutic value…you certainly are challenged by things and work on trying to respond to the challenges…like writing cards …neuroplastity is being activated – Celebrate Neuroplasticity!

Amy and Dave, June 2020
---
Rachael and Debbie talk about improvements in confidence and communication because of Voices of Hope for Aphasia
People should know that this group is a must for anyone recovering from a stroke…It helps people know: there's other people out there just like me and I'm normal…I can live my life…I can go on living and I'm ok…I love being a part of this group. It feels like family to me.

Rachael and Debbie, June 2020
---
Meet Tim and Jeannie
Tim had his stroke in 2021 while he and Jeannie were on vacation. They were on vacation in Cape Cod, a place near and dear to them. One morning, Tim woke up, dropped their car at a mechanic, and played 18 holes of golf. Later, on their way to lunch, Tim ran down a hill at their B & B, and Jeannie jokingly said, "Be careful – you're going to give yourself a stroke!"
At that same moment, Tim fell into the street. Cars on the road stopped to keep him safe from passing traffic. As EMTs arrived, they immediately recognized the signs of a stroke and were able to get Tim to a hospital and administer medicine to remove the clot.
Over the next several days, Tim went from complete right-side paralysis to being able to say "yes and no" and slowly regaining use of his right side. Jeannie's role in this was overwhelmingly complex: How would she get Tim home from vacation? How would she find the mechanic that Tim had taken their car to? As the days passed, Jeannie was grateful to see Tim's health gradually return, but the logistics of their situation only seemed to get murkier. Thankfully, Tim & Jeannie's village rallied to support them. After time in rehab, Tim & Jeannie found their car and made it home. Tim started speech therapy, and he gradually regained independence – playing golf again and even driving on his own.
But as the months wore on, Tim still felt there was something missing. While speech therapy helped, Tim was struggling with what he was going to do for the rest of his life amidst a string of isolating social interactions. He recalled the loneliness and frustration he experienced during that time:
"I wanted to do stuff and I went to church but I knew immediately it wasn't going to work," he said. "Those individuals wouldn't include me."
As Jeannie explained, the difficulties were mounting: "Speech therapy wasn't getting him anywhere. He tried different things but nobody wanted to understand the problem or how to communicate with him." I just kept
telling him,
"We will find you something. I promise."
Jeannie came through on that promise for Tim. They found VOH through a google search and haven't looked back.
"After the first meeting with Debbie, Tim got in the car and said, 'this is it.' He knew he was in the right place. When he comes home, he feels the connection, he feels understood, and it makes him want to do more."
Tim summed it up: "You [VOH] are a godsend! We all struggle, but really….you are the cure…stick around!"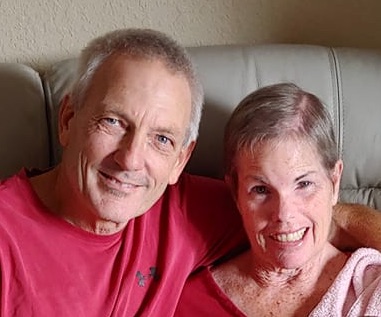 Meet Kathy and Scott
Kathy is a retired educator from Sykesville, Maryland. She spent the last 11 years of her teaching career working with special needs children. She, along with her husband Scott, relocated to the Tampa Bay area to enjoy their retirement and time with friends and family on or near the beach. They have been married for 37 years.
In January of 2018, at the age of 56, Kathy suffered a massive stroke. She was in a coma for several days, then in and out of a comatose state for nearly a month. Her doctors were not sure that she would survive. She spent two and a half months in a rehabilitation facility before coming home to her husband, Scott. They struggled with the need for 24-hour care and the need for greater support and understanding. "We went from having a great network of friends and an active life to staring at four walls, not knowing where to turn", says Scott.
When Kathy first came to Voices of Hope for Aphasia, she had a 10-word vocabulary and struggled to communicate. Now her language has improved, she is far more expressive and is an active member of our conversation group. Kathy and Scott can communicate so much better as a couple and Scott is able to further understand what Kathy needs and how best to help her.
"When Kathy left the hospital for rehab, I feared it was a death sentence for her. After our first day at Voices of Hope, I knew my first instinct was wrong," said Scott. "The other members of Voices of Hope have encouraged and motivated Kathy to work harder in speech and physical therapy. It is exciting, not just for Kathy, but for me". Scott has found help and some of the tools needed to better care for Kathy in the caregiver's support group. "This group has gotten us this far and I know it will only grow and help make our life better".
Meet Kaley
Kaley is 25 years old. She is living with the loss of her speech due to an unknown degenerative condition. This letter captures what Voices of Hope for Aphasia means to her, and to many of our other members.
Dear Jackie,
You asked today why we come to VOH and what it does for us. Here is why I do and what it does for me. I got sick in September of 2004 one month before my 14th birthday. I've seen over 65 doctors and had every test known to man performed. Being sick at such a young age was very difficult. Kids weren't always the nicest. Same with strangers: some would point, laugh, mock, stare and make jokes about me. My mom saw your car magnet on someone's car and stopped them. That is how we found you. I'm very glad she did. My mom found Voices of Hope at a point where I had given up hope that anyone would understand me and what I was going through or that I'd have friends.

Voices of Hope for Aphasia gave me hope again. It gave me great friends. It's given me a safe place to be myself and a place where I'm not judged based on how well I can talk or walk or write.
.
Join Our Newsletter
to find out how Voices of Hope for Aphasia started!
Click here for for past newsletters and updates.