Mike Caputo had a stroke in 2009, at the age of 51. He worked as a director and international leader for a large company. Mike wants to help others with aphasia find ways to live a happy and fulfilling life. He and his wife, Kathy, found Voices of Hope for Aphasia to do just that.
He has three daughters, Nicole, Amanda and Jaclyn, and 7 grandchildren…and counting!
On the morning of Thursday, May 7, 2009, Mike suffered a severe stroke, while working out on an elliptical machine. Due to the stroke and hemorrhaging, he lost the ability to speak as well as the use of the right side of his body.
The days that followed were long and hard on the entire family as the outcome was quite unclear.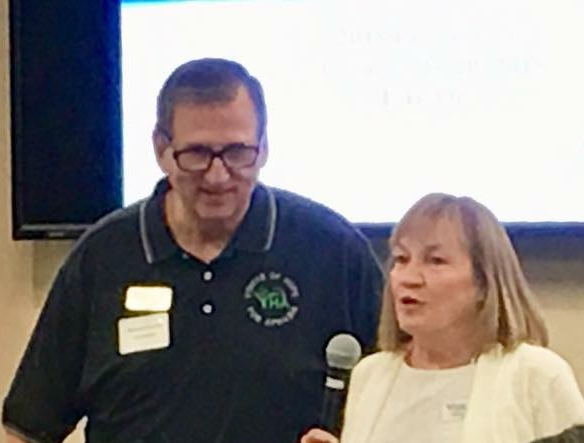 In October 2009, 5 months after his stroke, Mike walked his oldest daughter Nicole down the aisle for her wedding. In November 2011, Mike gave a speech at his daughter Amanda's wedding. In January 2013, Mike got his driver's license reinstated and can now be seen cruising around town once again.
Though Mike's speech is still limited due to aphasia, there is progress made every day, week, month and year that goes by. Through Mike's own experiences he recognized that many of his needs and those afflicted with Aphasia were going unmet, so he and Kathy started Voices of Hope for Aphasia.
Mike currently serves on the Voices of Hope for Aphasia Board of Directors in an ex-officio position to honor his vision and commitment to the organization.  Click here to read more about his position on the board.
In 2022, the Voices of Hope for Aphasia family suffered a devastating loss when our co-founder, Kathy Caputo, lost her battle with cancer. She is missed, but her spirit and vision live on in the laughter shared in our activities.  Click here to read more about Kathy.